As an Amazon Associate, I earn from qualifying purchases.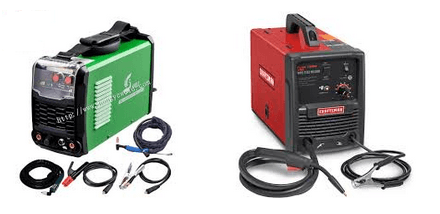 Whether you are a novice or an experienced welder, you may be confused on how to choose the best welder for your purpose. There are many welders in the market, which might complicate the selection process. You need to be well informed on the essential features of a welder for a simple decision. Experienced welders already know that a handy welder is necessary to achieve great results. The first step is to think why you want a welder and how you will be using it. A welder is a vital machine that can help you to save on repairs, earn an extra income and enable you to complete a range of hobbies. We have created a simple, informative guide to help you in making the right decision. The guide will also feature the types of welding machines.
Type of welding machine
Arc/Stick Welder
Arc welder offers an effective technique for fusing joints or alloys and can be used indoors and outdoors. This welder uses a consumable stick electrode. It is a popular technique because it creates effective bonds on dirty and rusty metals. Stick welders are effective when used to fuse metals of the thinness of 18-gauge and above. They require constant rod changing and emit substantial spatter. Stick welders are available in AC OR DC. The AC is an ideal model but is used for welding metals of a thickness of 1/16-inch and greater. A stick welder is a great
choice for hobbyists and farmers. Those doing home maintenance chores also attest that it performs great.
MIG/Flux-Cored Welder
MIG welder is a good choice for both thin and thick plate metals. It uses a wire welding electrode on a spool that is fed at a continuously pre-set speed. An arc is created by an electrical current between the wire and that base metal. This arch melts the wire and fuses it to the bases, creating a sturdy weld.
The Flux-Cored Welder uses the same concept as the MIG welder. The difference is that the Flux-Cored Welder does not need a shielding gas. It's a gas-free welding technique that utilizes Flux-Cored wire to shield the arc. This welding technique is great for outdoors, on dirty materials and even windy conditions. Its speed makes it an ideal welding application for construction purposes. Flux-Cored and MIG can be used by those who require clean welds on a variety of materials such as stainless steel and aluminum.
TIG welder
TIG welder uses non-consumable tungsten electrode to create the weld. A shielding gas and filler metal known as autogenous welds, shield the weld area from atmospheric contamination. Some welds do not require the autogenous welds. A continuous-current welding power supply generates energy that is conducted across the arc through a column of metal vapors and ionized gas.
The TIG welding is mainly used to weld thin sections of stainless steel, alloy steel and non-ferrous metals like copper, magnesium and aluminum alloys. The TIG welder gives the operator more control over the weld compared to other welding techniques allowing for high-quality welds. However, the TIG welder is complex to use and requires practice to master.
How To Choose a Best Welder?
Type of the work
The first thing to consider is the work or project that needs to be completed. Will the welder be used frequently or occasionally for different projects? These questions are important when deciding to invest in a welder. If you want a welder that can be used for different projects, you will want to buy a model that functions with more power and has a long duty cycle. Besides, the different kinds of welders have strengths and shortcomings. For instance, MIG is easy to use and adaptable. But some operators argue that the TIG welder is more adaptable and ideal for a wide range of applications although it's difficult to learn. Those who want a daily welder can consider the MIG because it's easy to learn. Experienced welders who want to try something new can go for the TIG welder. Remember your specific needs should determine the ultimate choice.
Power options
Thicker metals require welders with high power output, but high voltage welders need a stable power outlet or generator. Heavy duty projects cannot be completed with low voltage welders. The advantage of the low power welders is that they can be plugged in and you can operate them from any outlet. These are welders with a power rating of 100'sV. The welders with power over 115V will not run off when plugged in a typical power outlet.
Welders will run either AC or DC. The welders that run AC are always more affordable than those run DC. However, DC welders are more popular because they deliver high power allowing for a wide selection of electrodes. DC welders also offer better penetration, simple arc striking and improved control. For those who want to handle a range of projects, a combination of AC/DC will be a good choice.
Other factors to consider are:
Portability, size and weight
Level of noise during operation
Maintenance and operation costs
Thermal overload protection
Conclusion
The different kinds of welders, MIG, TIG and Arc, have benefits and limitations. However, one of these welders might be the best option for you. The most critical thing is to understand your needs and how you wish to use the welder. You can check online reviews and referrals to some of the best welders. This information will be important in helping you to choose a welder that will serve your needs. Finally, consider your budget.